The Mega Desk Mark I
posted
status: draft
It's been proven. Sitting all day is not good for you. Yet in my profession that's exactly what I'm doing 8, 9, 10+ hours every day. Ever since they first caught their buzz I've wanted a standing desk. I tried it out for a while using a box and my kitchen counter... not that attractive, but effective. I really liked it and after only a few days the discomfort in my legs and feet was minimal.
Pro tip: Wear very comfortable shoes!
I knew that having a permanent standing desk was probably a bit impractical as I often stay up very late working and I can't imagine myself being able to stand for more than 8 hours straight. A convertible model would be perfect, except, they're really fucking expensive. So I intend to make one. Right now I need to get the measurements and layout right. Having a convertible sitting/standing desk means I need to kick up my organizational skills a bit and don't want to lose precious storage space.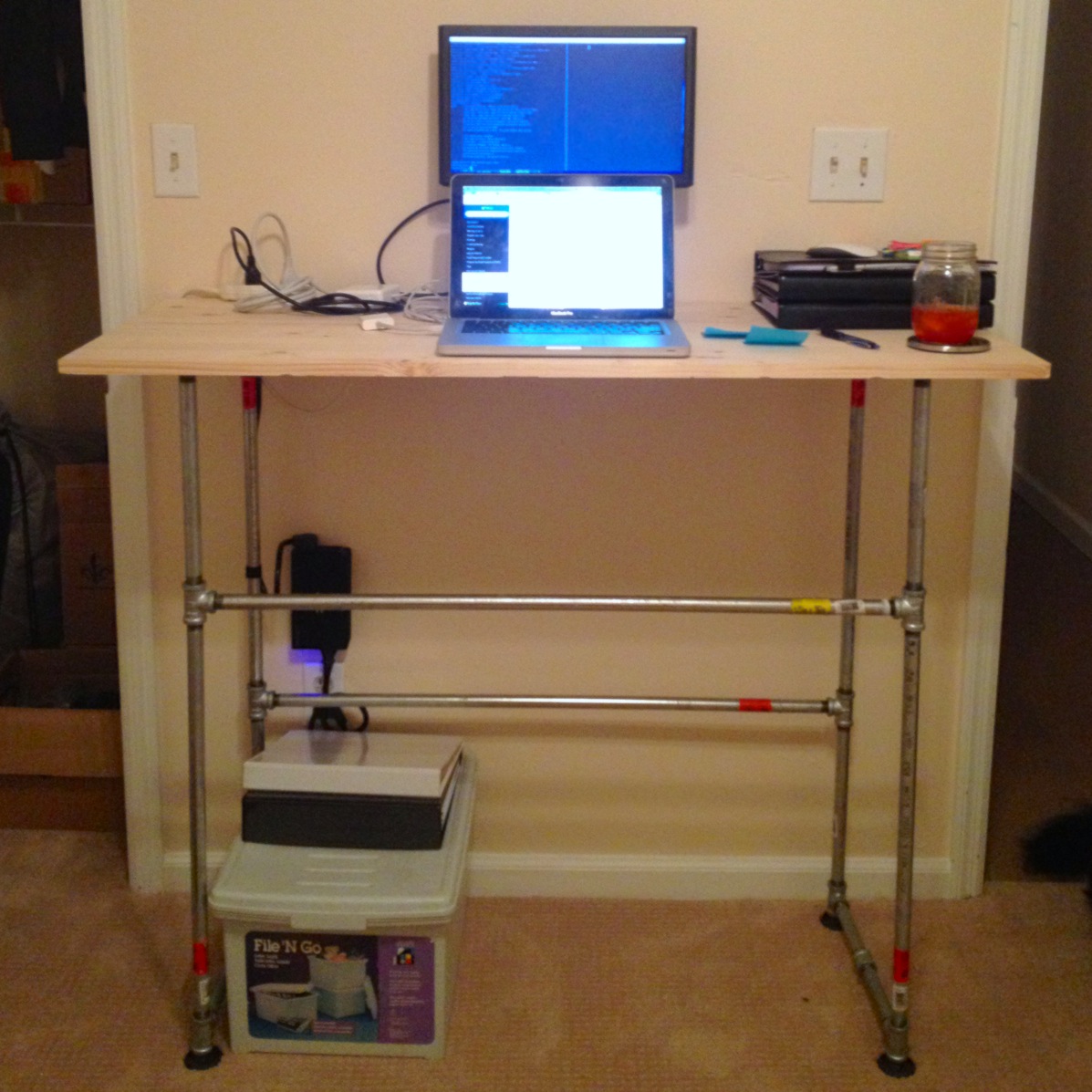 I started with a plan and a trip to Lowes. Intending to make the prototype as efficiently and economic as possible I chose 1/2" galvanized threaded pipe to mock up the legs and support system for the desk. Except, the pipe didn't turn out so economical so for anyone trying this at home I would suggest a different medium for your skeleton.
After some rough measurements I settled on a height of 40". I knew I had to forgive +/- an inch or two with this setup. So a panel, 8 1/2" Ts, 4 flanges, and an honest bundle of varying length pipe sections later... I assembled this. I know it's not the prettiest but it's got potential.
Much of what expect to get out of this prototype is more along the ways of helping me acclimate to standing for longer periods again and also help lock down a final design.
No, this version doesn't convert between both sitting and standing... but it's only the Mark I. I imagine there will be many revisions to come. Next up: monitor upgrade.